PERCI-SAR system version 4.01 update for USB systems will be available late summer!
Version 4.01 will have Auto Measure Modes! Just click a button and all peaks are selected automatically!
Version 4.01 will also have an Auto Backup Option for Perci data and report files.
Current Users May Contact MicroTronics about Discount Beta Pricing!
MicroTronics
PERCI- SAR System
Version 3.52

PERCI-(SPEECH-AEROMECHANICS RESEARCH SYSTEM)
The SAR system is a computer software/hardware interface for the in depth assessment of speech aeromechanics and nasal airway patency. With the recent addition of acoustic analysis SAR has become a most cost effective way to have a complete Pressure-Flow analysis system. The SAR system will now acquire high speed speech data while simultaneously acquiring low speed pressure-flow data. The new SAR software is very cost effective with respect to computer resources in that it can sample data channels at different sample rates. The software is Windows hosted and is compatible with MS Windows 2000, XP, and Windows 7.
FEATURES and SPECIFICATIONS
The PERCI-SAR System will acquire up to 6 input data channels simultaneously and is capable of displaying up to 3 of these channels in real time during acquisition as feedback to the user or the patient. Technical Specifications
The input data channels may be selected from the following:
P1 = PRESSURE CHANNEL (standard speed channel with low pass 50Hz filter)
F1 = FLOW CHANNEL (standard speed channel with low pass 50Hz filter)
P2 and F2 = STANDARD SPEED CHANNELS FILTERED ( LOW PASS 50Hz) -- These two channels may be used as an additional pressure and flow channels or for unfiltered external inputs.
The standard configuration for the PERCI-SAR system is to use 3 channels, 2 pressure and 1 flow, i.e. simultaneous oral and nasal pressure and nasal flow (oral flow is acquired instead of nasal for laryngeal resistance samples).
AUX Channel = STANDARD or MEDIUM SPEED CHANNEL NO FILTER --(Extra programmable filter may be used with this channel if desired.)
HSD = 1 HIGH SPEED DATA CHANNEL WITH PROGRAMMABLE LOW PASS FILTER (Normally used for voice)
Additional System Generated Outputs (which may be used as inputs) are :
SOUND PRESSURE LEVEL and PITCH -real time signals are available when a voice signal is connected HSD channel, (one SPL-Pitch calibrated microphone supplied with mounting available for voice recording during VP samples or SPL measurements during Laryngeal Resistance samples.).
Other possible inputs (user supplied signals)
EMG, LRX or EGG , Respiration, and Nasalance.
Software Features
PERCI-SAR system measurements include:
VP area: measured during speech using repeated words or phrases with voice simultaneously digitally recorded.
[Pressure, flow and voice waveform data are stored in the same file. This feature offers the ability to playback specific voice segments associated pressure-flow waveform data.]
Flap area: measured during breathing to assess flap obstruction.
Nasal resistance or nasal patency (cross-sectional area): measured during breathing. This measurement helps the user assess the patients nasal patency as it relates to speech in cleft palate ("where a good nose for breathing can be a bad nose for speech!"). Left & right nasal patency is measured using anterior rhinometry and left+right is measured using posterior rhinometry.
Laryngeal Resistance: mode has optional SPL, Pitch and pitch targeting.
Other measurements available: volume flow rate, respiratory flow volume, phonation time and phonation volume. There is also a voice only sample for measurements of SPL, Pitch , Shimmer, and jitter with both pre and post sample digital filtering (Post filtering only available on Standard System).
The PERCI-SAR has an optional targeting Signal Display mode for biofeedback (i.e. input targeting) with optional sound effects from the Multimedia sound board.
PERCI-SAR SYSTEM Features
The PERCI-SAR system is delivered calibrated and ready for use. Our system packages also include accessories which permit the user to recalibrate and/or verify pressure-flow channel calibrations. (See Technical Specifications for more flow calibration information.)
The system can be easily configured for specific sampling modes by selecting from a set of MicroTronics supplied sample designs or sample types (i.e. VP area, Nasal area etc,). The user has the option to modify the supplied sample designs and/or create their own sample designs and sample protocols. (Sample protocols consist of an procedurally ordered number of sample designs selected from the all available sample designs to facilitate users in taking measurements in a desired sequence).
The PERCI-SAR system is supplied with a microphone which has been system calibrated for SPL.
Option to use real time data display for subject targeting and biofeedback.
Report Generation and Journaling capability for measurement record keeping.
The PERCI-SAR system has the ability to store patient information files for later retrieval when patients return for subsequent visits.
MicroTronics supplies a tutorial CD which covers pressure and flow calibration, and a general information lecture on results obtained from pressure flow analysis in the cleft palate population.
Note: The PERCI-SAR systems have built in Help.
---
Software feature: The PERCI-SAR system allows the user to retrieve and display patient data by selecting the patient's name from a list. Once a name has been selected a search of all data directories is performed and a list of all available data files may be displayed (by visit number if desired). Files may then me selected for retrieval and measurement from the list. The system will also produce a list of all measurement reports previously made on the selected patient data. The latest Versions also offers the convenience of a MRU list of the last most recently accessed patient information records.

---
The Perci-SAR system has a Quick report generator which will automatically combine patient information, graphical and measurement data to generate a measurement report. The Perci-SAR system also has a Full Report generator with a word processor type interface to edit and/or comment generated measurement reports!
The Perci-SAR system can save high speed data (audio) to the Windows Multimedia(RIFF) file format (.wav) which allows the audio to be played back through the a Multimedia Sound System if one is installed on the host computer. The Multimedia Sound System may also be controlled by the Perci-SAR software to record or playback during data acquisition.
Examples of Perci-SAR System Acquisition Window:
VP Sample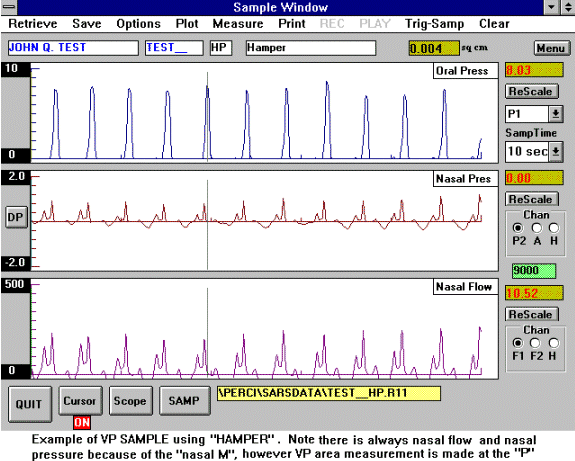 LR Sample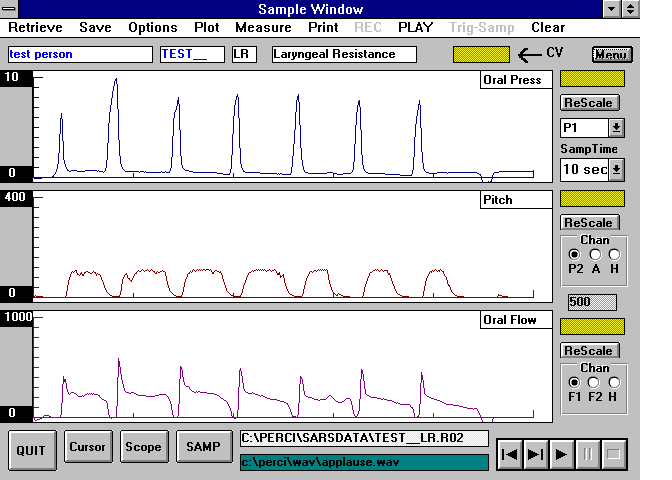 Perci-SAR Photo- VP Measurement (57k JPG)
Perci-SAR Photo- Nasal Patency Measurement (52k JPG)

PERCI-SAR System Photo (SETRA-USB) MTSAR-V2
New Version Perci-SAR System Tutorials and Version 4.01 (Not yet released)
Please be advised that Perci-SAR version 3.52 ( USB version for Notebook or Desktop computers) is only available for the Setra Transducer Model of Perci-SAR! This version of the Perci- SAR data acquisition software only requires a connection to a USB port! No expansion boards to install!
Perci-SAR COMPUTER REQUIREMENTS (To be updated soon for Version 4.01)
Perci-SAR USB Version 3.52: Pentium Desktop or Notebook(Laptop) Computer 1GHz (or higher is recommended), Memory=512 megabytes (or more recommended), 20 Gig Hard Drive or larger recommended, available USB port (1.1), MS Windows 2000 or XP Pro, Windows 7 (32bit or 64bit) ,(Windows 8 available soon!)
Multi-Media speakers are optional, but recommended.
The Perci-SAR USB System: Version 3.52 Specifications as of 12/10/2013.
Transducers
MicroTronics no longer offers two models of transducers for the Perci-SAR System. The MTST Transducer set (manufactured by MicroTronics ) has been discontinued. We currently only offer the Setra Systems Model MT-239.
Transducer Descriptions ,Comparisons, and Specifications
Pricing
| Description | MTSAR# | Price |
| --- | --- | --- |
| Standard PERCI- SAR system (Desktop Computer Version) | MTSAR-V1 | Discontinued |
| Perci-SAR system (USB Desktop or Laptop Computer Version) | MTSAR-V2 | $16,795 |
| | | |
Detailed Price Sheets:      	MTSAR-V2 (for Desktop or Laptop Computers)
MicroTronics accepts MasterCard and Visa for supply items and other non-system orders!
MTSAR System configuration is a standard three transducer system (2 Pressure and 1 Flow) however, a second Flow transducer may be optionally be purchased. The second flow transducer is usually purchased by researchers interested in oral verses nasal breathing studies using a partitioned oral-nasal face mask. It also possible to purchase the PERCI-SAR system as a "complete" system which includes a 2.0 GHz Pentium® Multimedia Computer with PERCI-SAR hardware and software installed.
The "Complete System" offered by quotation only!
INTENDED USAGE:
The MicroTronics Corp PERCI instruments and software are designed for educational and research-oriented life science applications and investigations. MicroTronics Corp does not promote the use of its instruments for clinical medical applications. Instruments and software provided by Microtronics Corp are not intended for the diagnosis, cure, treatment, or prevention of disease in humans or animals.
Send mail to webservice with questions or comments about this web site.
Copyright © 1997-2014 Microtronics Corp. of Chapel Hill-NC
Last modified: September 01, 2014